Para Onlusu (Ten of Coins/Money)
A little bit of Turkish:
Mutluluk (Happiness, Well-being, Bliss) Zenginlik (Wealth, Prosperity, Riches) Aptal (Fool, Stupid, Idiot, Dumb) Rüyalar (Dreams) Bilge (Wise, Sage)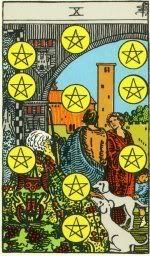 Zenginlik aptal rüyalar; Bilge bir adam, mutluluk.
A fool dreams of wealth; a wise man of happiness.
An alternative name for the Ten of Coins in Turkish:
Tılsımlar Onlusus -
Ten of Talismans
The term 't
ılsımlar' (talismans) is used on some RWS decks (and its clones) as a translation of 'pentacles'.
The image of the Ten of Pentacles above is from a 1910 pack of tarot cards produced by Pamela Colman Smith for Arthur Edward Waite. For a modern reproduction I recommend the
Pamela Colman Smith Commemorative Set
.